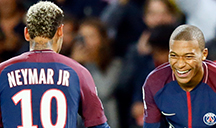 The Ligue 1, France's top division, is one of the most powerful leagues in European club football. French teams always play a part in European tournaments: Paris Saint-Germain has been a fix participant in the knockout stages of the Champions League for years and Olympique Marseille played in the Europa League final last year.
Favourites in Ligue 1
Arguably, this season's favorite is Paris Saint-Germain again. Thomas Tuchel's eleven is packed with superstars like Neymar, Kylian Mbappé or Edinson Cavani and celebrated the championship the two last times. However, Olympique Lyon, Olympique Marseille, Lille and Saint-Étienne will do everything to stop the ruling champion from winning their third title in a row.
Ligue 1, full of great talents, will certainly be thrilling, particularly at Interwetten, because here you'll get the best odds for your favorites!